The holiday shopping season is here and people will flock to local malls and shops. Black Friday, as it is known, starts it all off and will be sure to have a wide array of great deals. Be careful though, your credit card balance can creep up on you even when you are bargain shopping! You may get great deals, but you also may buy more than you intended and those purchases can add up quickly.
The holidays are about family and friends coming together to celebrate religious traditions and the beginning of a new year. After the grandchildren and kids have gone home with the fabulous presents that were bought, you feel great with the memories of the smiles brought to their faces. Then comes the aftermath from the huge amount of presents and holiday cheer: the credit card statements.
All too often this would be the case with my grandparents, even though they were living on a fixed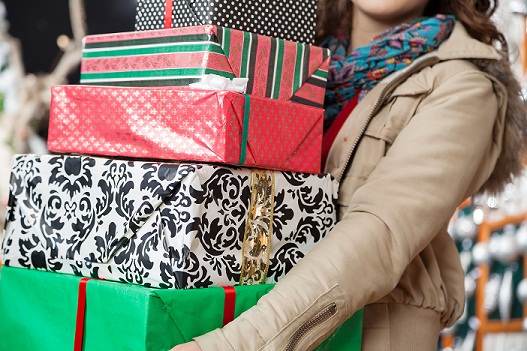 income because they didn't have the income they once had. However, they still threw a huge feast and made sure everyone had a present, with the grandkids getting three or four each just like we always had. All that did was contribute to their growing debt. We now make presents about the young kids and don't get them for the adults. We try and focus more on the tradition of the holidays and the opportunity to spend time with the people that we care about.
Your family and friends love you, not what you can buy them.
Here are 10 tips to having an affordable, yet enjoyable holiday season:
Set a Budget

 – Be reasonable and try to limit the number of people that you buy gifts for. Remember there are other gifts that you can give that are handmade and less expensive.

Don't Wait for the Holiday Shopping Season to Arrive Before You Shop

 – Looking toward next year, start purchasing gifts year-round, especially when there are great sales. Wrap it right away so you don't run the risk of someone finding it before the big day. You can always find last year's holiday's wrapping paper on sale for as much as 50 to 70 percent off. Besides, by the time the gifts are opened, it may be a surprise to you as well. I don't know how many Christmases my mother would say, "I forget what that present is." There was always a great story behind it, too.

Don't Use Credit Cards

 – Take only cash with you when you go shopping to avoid impulse purchases. Another great way to avoid overspending on a particular person is to put the amount of cash that you allocated in your budget in an envelope and write that person's name on it. Once you have spent all the money in that envelope, you're done shopping for that person. If you feel uncomfortable carrying cash, then use a debit card.

Shop Around

 – There are many companies competing for your business, so make sure that you do your homework and find the best deals. Visit a number of stores, check sale ads, and if you're comfortable making purchases online, check there too. But, make sure that you use your cash allotment to pay off credit cards used for online purchases.

Be Creative

 – Do you have a special talent that might create a wonderful gift? Can you bake, sew, draw, write, or build? Use your talent to create a gift that is not only meaningful, but also generally less expensive than buying gifts.

Framed Pictures

 – You can find some great frames at garage sales and flea markets and there is nothing like a picture to bring back fond memories. A framed picture of you and the recipient with a note reminding them of when and where you took the picture is a gift that keeps on giving.

Themed Holiday Cards

 – Create personal, holiday-themed cards with trips down memory lane. It will be very personal and it lets the person that you gave the gift to know that you put a lot of yourself into their card.

Secret Gift Exchange

 – Write down the names of your family members on a small sheet of paper, then have each family member select a name. Decide on a reasonable spending limit for a gift. Buying a gift for only that one person makes the holidays more affordable for everyone in your family.

Family Heirlooms and Memorabilia

 – Some of these items are valuable and can be a great reminder of our past. Jewelry, art, and antiques are just some of the possible items that you can pass along.

Personalized Gift Certificates

 – Gift certificates for services require nothing more than your time and imagination, which are both inexpensive and unique. Give your spouse a gift certificate for a massage by you or breakfast in bed. For the kids, give them a gift certificate for a day at the park or an afternoon playing their favorite game with them.