Boost for our Heroes is a financial assistance and education program that benefits military members and their families. This program provides a variety of workshops, outreach efforts, and one-on-one consultations to help men and women experiencing a financial hardship become financially stable. 
Educational programs focus on seven main topics: development of a savings plan, fundamentals of buying a house and car, mastering the military transition, workplace readiness, understanding and utilizing credit and debt management.
Obstacles currently faced by our military personnel 
Low pay rates for enlisted military members with a 46 percent higher cost of living in San Diego compared to other military locations throughout the United States

Transition into civilian life can lead to long periods of unemployment or underemployment which forces increased usage of credit cards, payday loans and other high-interest borrowing

Predatory lending techniques geared toward military personnel
Because of these obstacles, the Boost for our Heroes program also provides a quarterly award of $3,000 to a military member or military family. Each quarter, an impartial panel selects one recipient based on financial hardship and subsequently works with the recipient to develop an integrated financial plan. To date the SDFLC has given $42,000 to fourteen families since 2014. You can view videos of our recent award winners on our YouTube Channel.
So, if you are living paycheck-to-paycheck, facing high amounts of credit card debt, unable to make your rent or mortgage payment, or have faced any other financial crisis, we are here to help! By working closely with our military partners in the San Diego community, we are determined to make an impact on those that give so much each day.
The 4th quarter application is now closed. First quarter application will be available in January. 

Contact us for more information, to schedule a workshop or one on one consultation.
2015 Impact Study
2015 was a monumental year for our Boost for Our Heroes program here at the SDFLC. This study will summarize our impacts, outcomes, outreach, successes, and challenges for the period between May 2014 and November 2015. Please take a moment to read it and let us know what you think.

Special Events 
• 4th Quarter Education Luncheon will be on December 15th and we will be releasing our second impact study! Register today!
• 4th Annual Boost For Our Heroes Golf Classic presented by Penfed was August 21, 2017 at The Country Club of Rancho Bernardo. Click here for photos and video of the event.
• 3rd Quarter Education Luncheon was on September 29th and the topic will be "Financial Planning: Your Money and You." Facebook live stream here.
• 2nd Quarter Education Luncheon was on June 30th and the topic was "The Future of Banking." Facebook live stream here.
• 1st Quarter Education Luncheon was on March 31st and the topic was "Day in the Life of a Military Spouse." Click here for the full event video.
Presentation totals for YTD:
• 46 Seminars
• 2,766 Attendees
What to look for in the fourth quarter of 2017:
• 4th Quarter Boost for Our Heroes Award Presentation
• Participation in the Lincoln Military Housing dinner and a class series
Photos From 2017:
• Fleet and Family FUNancial Festival
• Lincoln Military Housing: Dinner and a Class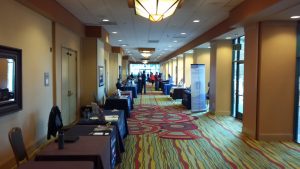 • Sugar Bear Foundation Kansas City Barbaque