Wave of the Future is a financial literacy program geared towards students of all ages (K – 12 and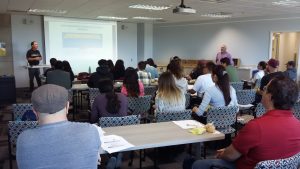 college) which concentrates on how to avoid debt, use credit properly and develop a spending plan. The program is conducted through community outreach, education workshops, and one-on-one consultations.
We have recognized the fact that most financial troubles begin at a young age. For that reason in the spring of 2015 the SDFLC launched a K – 8 program (Kangaroo Club) for elementary and middle school aged children.  
We believe that it is important to give young people the information and understanding of the significance of credit cards, budgeting, and debt because they will need it in the very near future.
Contact us for more information, to schedule a workshop or one on one consultation.
PRESENTATION TOPICS

• Understanding credit
• Introduction to credit reports and scores
• Creating a plan (budgeting)
PRESENTATION STATISTICS
2017 March Totals:
• 2 Seminars and Events
• 174 Attendees
• 93.42% of students surveyed agreed or strongly agreed that they will be able to use the information learned in their financial future
• After our presentation 89.39% of students rated their understanding of budgeting at a seven or above